The third-largest city in America, Chicago, is a diverse and vibrant melting pot of cultures. This multicultural diversity is expressed through Wind City's bold art movements, heritage, and exciting variety of ethnic cuisine. So, if you're looking for the best Thai food in Chicago, Chi-Town is bound to leave you feeling spoiled for choice.
Thai ranks among the city's most eclectic and sophisticated dining options, featuring rare delicacies from Central and Northern Thailand. Chicago has embraced authenticity and regionality in Thai cuisine with impressive aplomb, offering more than the typical American homestyle recipes.
For Asian food aficionados craving authentic Thai food Chicago offers a delightful variety of fusion and traditional Thai-owned restaurants. Dining at a traditional Thai joint allows food lovers to experience family recipes passed down by grandmothers over the generations. Chicago also offers a mix of fusion restaurants that creatively fuse authentic Thai cuisine with continental flavors, appealing to a broader audience.
Read on to explore restaurants famous for serving the best Thai food in Chicago.
1. Andy Thai Kitchen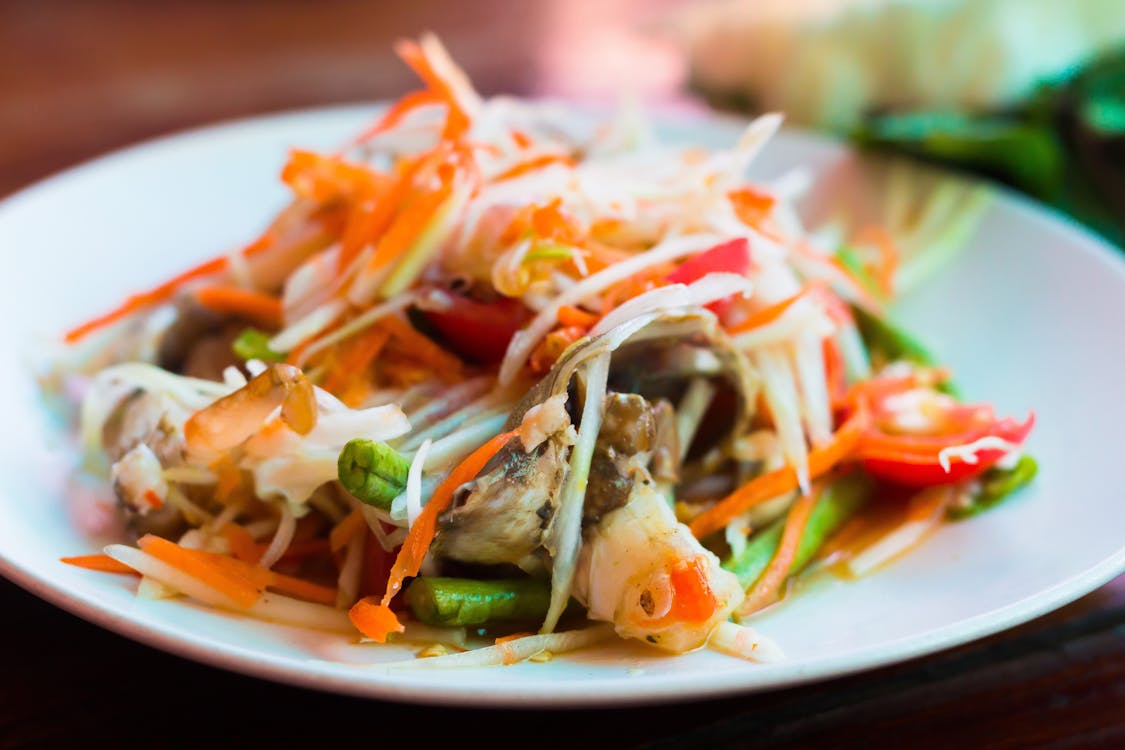 The brainchild of renowned chef Andy Aroonrasameruang, Andy's Thai Kitchen offers authentic Thai food Lakeview residents and visitors wholeheartedly recommend. Famous for his fiery eggplant curry, pork-and-rice sausages, and fiery Penang Curry, Chef Andy is an enigma. The chef crafts his own meats, vegetables, and sausages, and his active involvement in the day-to-day operations makes the place a true gem.
Guests can enjoy Chinese broccoli paired with deep-fried pork belly with sweeping views of Lakeview and Lincoln Park. The menu is eclectic, and each dish reveals keen attention to detail with a colorful blend of fresh ingredients. Their chicken salad is highly recommended for vegetarians who love blending cool ingredients with peppery herbs.
Chef Andy undoubtedly serves the best Thai food in Chicago, especially for experiencing authentic flavors and delicacies, like glass noodles.
2. Star of Siam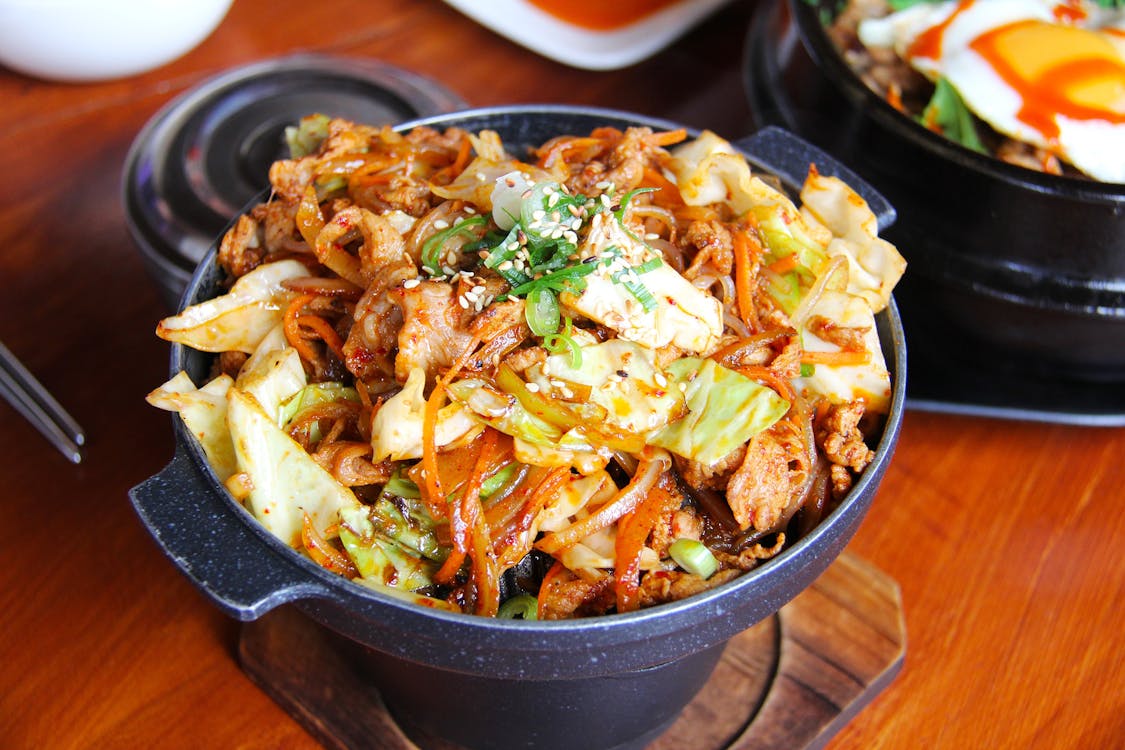 One of Chi-Town's trendiest restaurants for Thai Cuisine Chicago trendsetters speaks highly of Star of Siam's inventive cuisine and lively atmosphere. Designed with an open kitchen layout and rustic wooden tables, this upbeat restaurant is small and cozy, perfect for peaceful dining.
The staff is attentive and courteous and will help you navigate the extensive menu by explaining the recipes and ingredients. If you want to experience the best pad Thai Chicago has to offer, Star of Siam is the place to visit. The menu offers a well-curated list of appetizers and main entrees, from flavorful curries and pad Thai to rolls and satays.
Suppose you're sampling Thai cuisine for the first time and seeking safe choices to introduce your taste buds to this spicy cuisine. In that case, consider ordering from the menu's "Star Recommendations" section. Their chicken rice soup garnished with sesame oil is highly recommended, while the Tom Koa soup is comfortingly savory.
All meals are served with generous portions, ideal for satiating two people. Since the restaurant is small and gets crowded, we advise booking in advance and requesting a window table facing Devon Avenue.
3. Herb Thai Bistro & Wine Bar
Owned and overseen by dynamic Chef Patty Neumson, Herb redefines traditional Thai cuisine with creative recipes and seasonal ingredients. Specializing in farm-to-table dining with fresh, seasonal produce, Herb offers prix-fixe meals with 4-5 courses. It offers the best Thai food in Chicago for family-style dining, with multiple courses and hefty portions to satiate the whole family.
The courses are amazingly crafty, allowing Thai lovers to feast on a wide variety of flavors and recipes. The pairings of appetizers, garnishings, and sauces are ingenious and incredibly delicious. For instance, seared scallops are served with spicy chili-infused lime sauce, while fried prawns come with a sweet and tangy mango sauce. Herb's beef green curry is an absolute riot!
Each course is presented with great finesse, creating an Insta-worthy tablescape with elegant cutlery and artsy plating.
4. Opart Thai House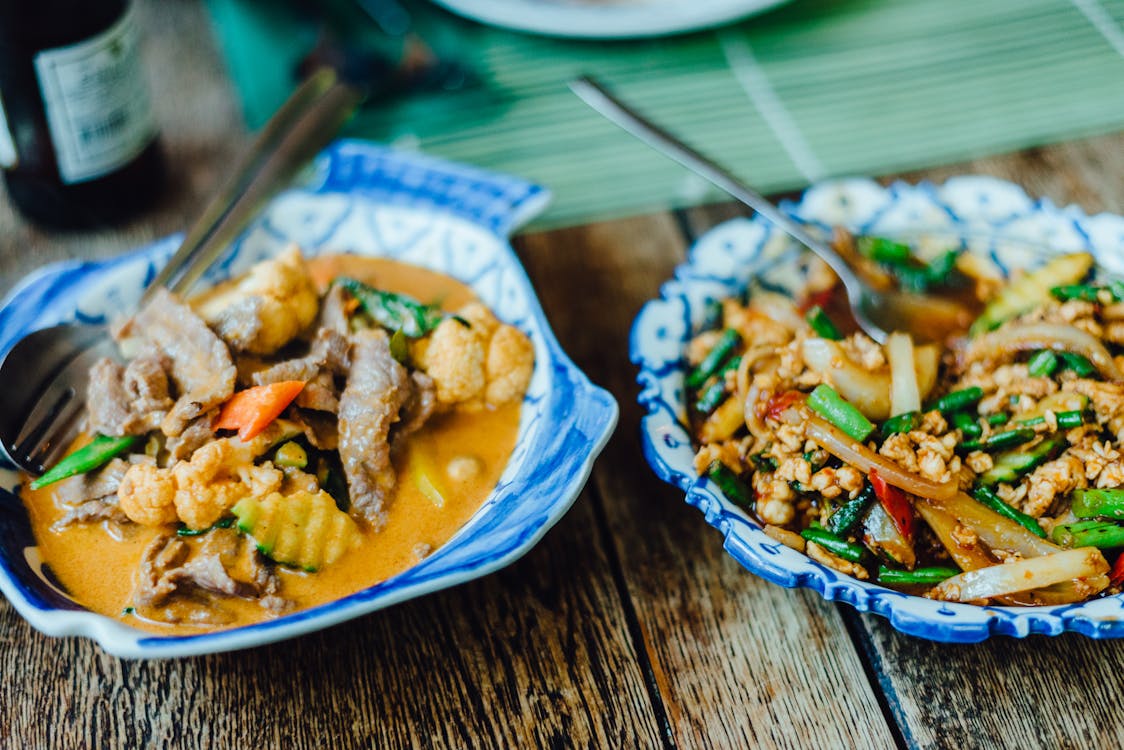 Opart Thai House offers the best Thai in Chicago for patrons seeking top-notch flavor, decent portions, and excellent value for money. A legendary stalwart and one of Chicago's oldest restaurants, this bustling restaurant has served locals and tourists for decades. Opart Thai House is a go-to choice for Chicagoans craving savory Thai curries or a wholesome family dinner.
Their Khao Soi is one of the finest renditions of the dish, prepared with egg noodles, herb-infused chicken, and coconut curry. If you like lemony chicken and garlic, their nutty Naem Sod is bound to delight your taste buds. Opart Thai is also quite famous for its scrumptious Pad Ped Pla Dook – fried catfish served with red curry, eggplant, and beans.
If you're planning to order takeout, Opart Thai runs the best Thai delivery Chicago has to offer.
5. J.J. Thai Street Food
Thai lovers looking for the best street food in Chicago must head over to J.J Thai Street Food. This eclectic space offers a BYOB-friendly venue where one can relax with friends over drinks and delicious food. This West Town streetside shack features 28 seats that tend to fill up quickly, operating on a first-come-first-serve system. We advise heading out before and after lunch hours to avoid waiting around for a table.
If you do end up waiting, rest assured the effort will pay off with authentic Thai food Chicago observers cannot stop raving about. The dishes are delicate combinations of explosive flavors. For instance, Khao Mun Gai Tod is a fried chicken dish marinated with a sweet and spicy chili sauce. The Pla Muk Yang is juicy and tender, featuring seared squid bathed in a spicy seafood-based dressing.
Suppose you want a herbal concoction to soothe your tummy and taste buds. In that case, their Guay Tiew Nam Sood Boran is the perfect chicken noodle soup.
6. Sticky Rice
You've probably heard about Sticky Rice Chicago or stopped to admire its lively and vibrant storefront on North Western Avenue. One of the best Thai places in Chicago, Sticky Rice is popular among locals and travelers alike with tried-and-tested Thai favorites. The restaurant specializes in traditional cuisine from northern Thailand, along with a few house specials.
You can check their chalkboard to order the daily specials with a combination of Thai classics from their menu. Sticky Rice serves Chicago's finest rendition of Gang Hung Lay – garlicky pork lathered with sweet, gingery curry. Seafood lovers will adore their stir-fried sole fish, while vegetarians must try the Khua Kae, stir-fried eggplant with red chili paste.
7. Amarind's Thai Restaurant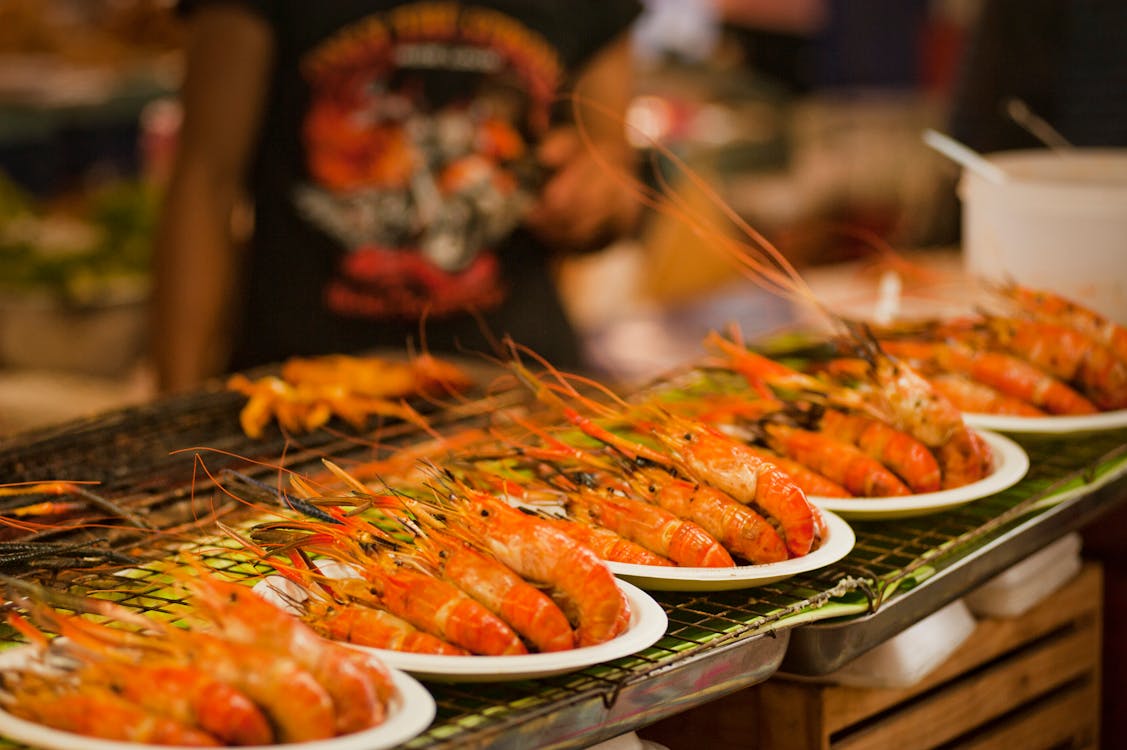 Amarind's Thai offers an elegant fine dining experience to feast on savory and spicy Thai flavors in an urbane atmosphere. Suppose you're craving good Thai food in Chicago with a stellar ambiance without splurging too much money. In that case, book a table at Amarind's and treat your partner or guests to an affordable fine dining experience.
The enclosed patio is adorned with old-fashioned furniture and rustic wooden paneling, creating an earthy warmth. The menu reveals a contemporary twist to traditional Thai cuisine. Amarind's house-special spinach noodles are truly indulgent, served with crab rolls and shrimp. You can also request different sides, like beans, garlic chives, and scrambled eggs.
Beef lovers craving authentic Thai food Chicago food connoisseurs whole-heartedly recommend you treat yourself to Amarind's Beef Panang Curry.
8. Arun's Thai Restaurant
An upmarket restaurant famous for its distinguished plating techniques and unique take on fine dining, Arun's is a class apart. Patrons like to dress to the nines to blend in with the sophisticated atmosphere and glitzy interiors of this posh Thai joint. Arun's is hands down the best Thai restaurant in Chicago for those who enjoy multi-course meals with spectacular presentations.
The food is as appealing to admire as it is to devour. Arun's has a pre-fixe menu featuring 8-12 courses in multiple options. Each course is presented like a work of art, pairing meats with colorful vegetables and spicy sauces. Their braised pork belly is an absolute delight, served over a bed of arugula with sticky rice. The crab cake is divine, and you must check out their inventive cocktails, prepared with peach BBQ puree and pineapple sauce.
9. Immm Rice & Beyond
Popular for serving the best pad Thai Chicago can offer, Immm Rice & Beyond offers a traditional Thai street food experience. Tucked in the Historic District on West Argyle Street, this joint is ideal for replenishing in between sightseeing tours. Immm Rice will transport you to the busy food streets of Bangkok's Chinatown with its bustling live kitchen and stalls.
The menu offers a series of daily specials, and their traditional Khao Rad Gang is a lunch-hour favorite. It's a wholesome meal prepared with three curries, stir-fried chicken, and stews with a choice between noodles or rice. Immm Rice whips up the best Asian fusion Chicago food enthusiasts strongly recommend the green papaya salad with sides of crab and fish.
10. Amarit Thai & Sushi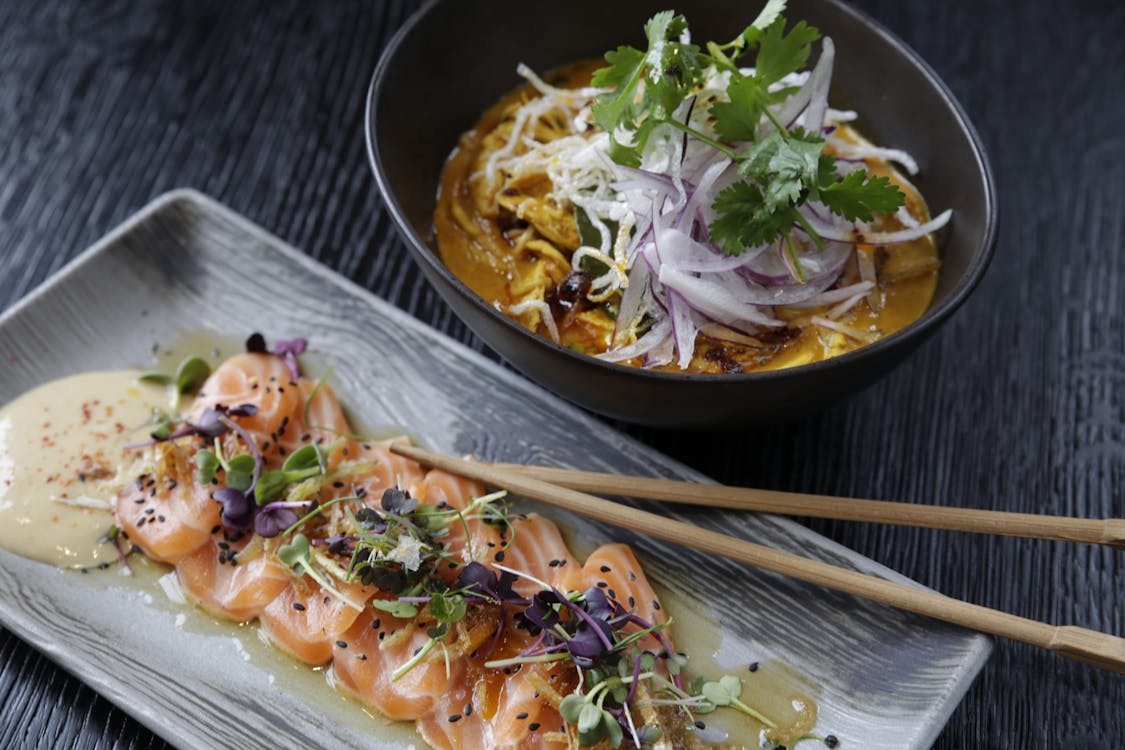 If you're craving Thai food downtown Chicago has some incredible options, but Amarit certainly steals the show. Amarit Thai is lauded for the best Thai cuisine menu, pairing diverse Asian classics with traditional curries, noodles, soups, and seafood.
Seafood and soup lovers will fall in love with the delicacies, rich with fresh mussels, mushrooms, squid, and shrimp. The variety of seafood items is impressive, and all the ingredients are fresh and well-flavored. Their specialty soups are genuinely comforting, owing to their generous portions of ginger and herbs.
Once you're done with your meal, be sure to sample Amarit's Thai iced coffee and traditional ice teas.
FAQs
Which Restaurant Offers the Best Thai Food in Chicago?
Chicago has a diverse Asian and Thai food culture, and finding the best Thai food in Chicago demands research and reflection. For instance, if you want Thai street food in Chicago, JJ Thai Street Food is the perfect spot. Andy Thai Kitchen, Star of Siam, and Herb are excellent for experiencing authentic recipes with flavorful ingredients.
Which Restaurants Serve the Best Thai Food Chicago Suburbs?
Some popular Thai food restaurants in the Chicago suburbs include Arun's, Amarind's, and VinoThai.
What Are the Best Thai Restaurants That Offer Delivery in Chicago?
Opart Thai House offers the best Thai delivery Chicago also offers other options, like Three Dots and a Dash.
Why Are There so Many Thai Restaurants in Chicago?
Chicago has a vibrantly diverse Asian community, and Thai people love to cook and feed others. Chi-Town is one of the best American cities to enjoy creative and inventive Thai cuisine presented by highly talented culinary artists.