Vacationers eager to take advantage of budget-friendly deals find October the ideal time to explore the Caribbean. Low-season vacations allow travelers to escape the touristy crowds, land affordable deals and find secluded sections of paradise to revel in their privacy. The Caribbean coastline offers the best islands to visit in October for an action-packed adventure.
The Caribbean truly has it all; scrumptious platters of aromatic cuisine, vibrant marketplaces, live music, rich culture, and breathtaking natural beauty. Each island is uniquely endowed, combining rip-roaring water sports and scenic hiking trails with immersive cultural and historical attractions. Whether you pick Aruba, Antigua, or Barbados, a Caribbean adventure is bound to leave you feeling mesmerized and deeply rewarded.
But choosing the right island is important to build an itinerary that aligns with your core interests. Some travelers gravitate toward adrenalin-raising outdoor recreation, while others seek soulful music and cultural musings. Our guide to the best Caribbean islands to visit in October will help you find the perfect destination for your inner traveler.
Aruba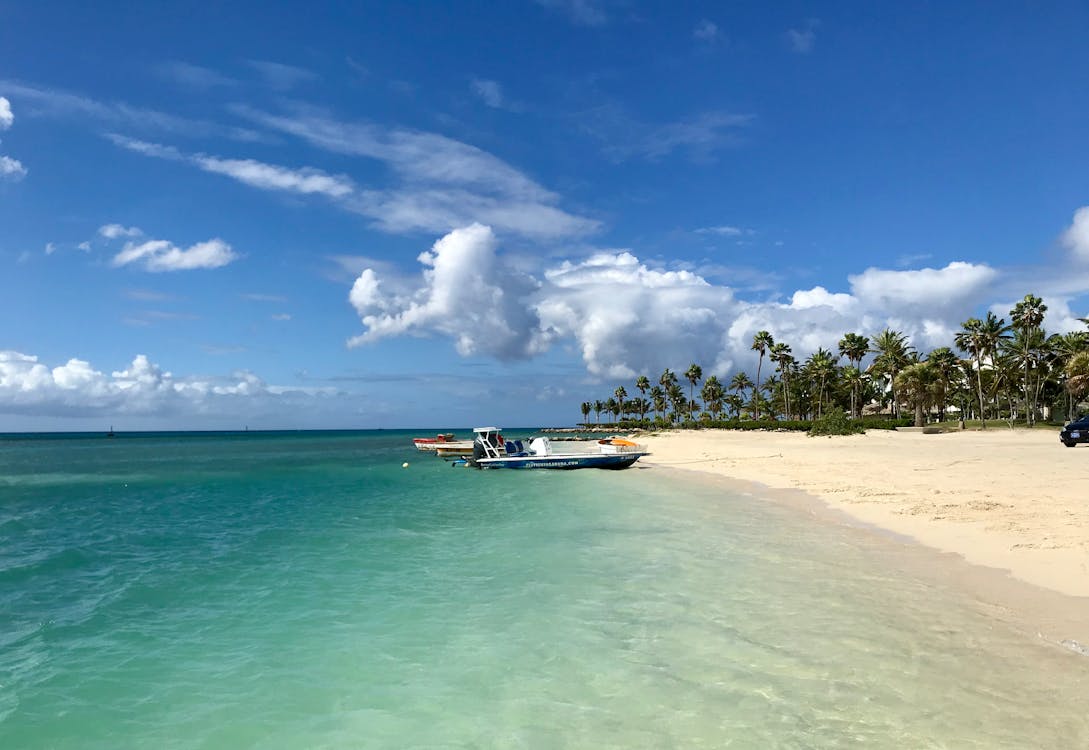 Aruba is one of the most popular Caribbean islands outside of hurricane belt, nestled in the Southern Caribbean near Venezuela. World-famous for its powdery white sand, azure waters, and tropical sunshine, Aruba beckons nature lovers to roam the beaches with flamingos. Aruba is among the world's few islands where one can see flamingos and interact with them in their natural habitat.
Unlike most Caribbean islands, rainfall is scarce here, making Aruba ideal for sightseeing adventures and guided tours. One can spend days exploring the local markets and shopping for artisanal crafts and prized vintage finds. Aruba is home to colorful architecture and pre-colonial heritage sites like the Alto Vista Chapel and the California Lighthouse.
The dense rainforests make the island rich in wildlife and zoological diversity. Aruba features innumerable nature reserves where one can interact with wild animals, birds, and butterflies. The Butterfly Farm is a must-visit attraction, while Philip's Animal Garden offers more insight into Aruba's animal welfare initiatives.
History enthusiasts can check out the Bushiribana Ruins, while outdoor lovers can hike through the spectacular Arikok National Park. Palm Island is the hub of Aruba's exciting nightlife, laden with trendy clubs, waterfront bars, and live music joints. Oranjestad, Aruba's capital, is a well-rounded destination that appeals to every traveler's taste.
This island offers the most glorious weather in the Caribbean in October to support water recreation like scuba diving and snorkeling. Suppose you're headed to the Caribbean for an epic scuba diving adventure. In that case, Aruba is the best choice because its stunning coral reefs and innumerable shipwrecks ensure an unforgettable underwater experience.
St Lucia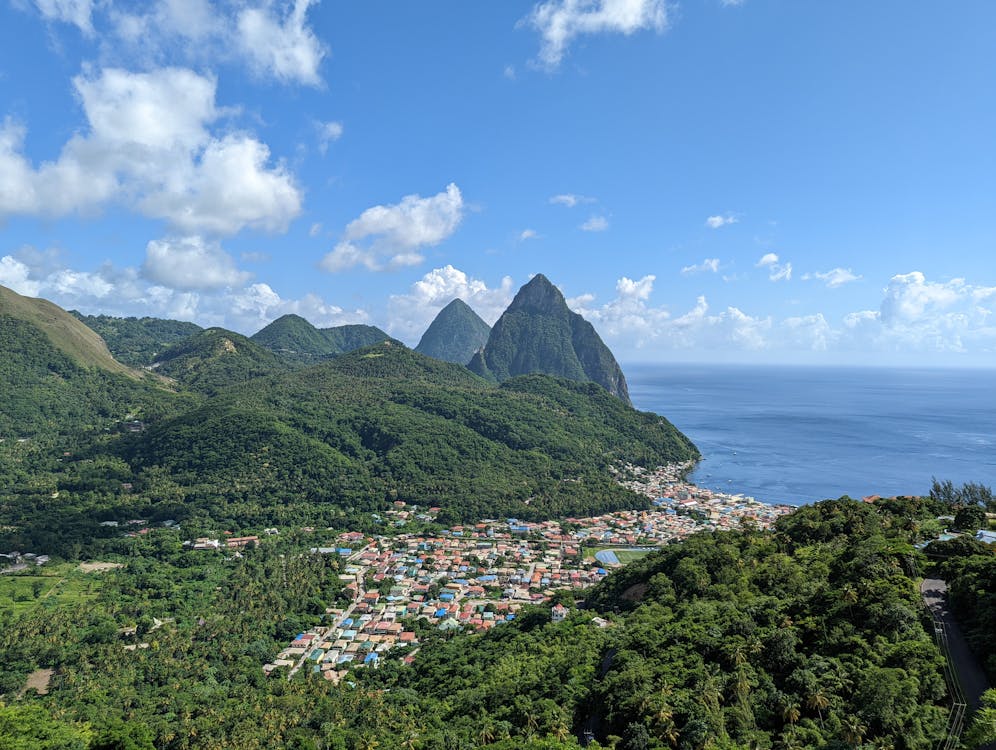 St. Lucia is one of the world's best tropical islands to visit in October for a fun-filled family vacation. Given its rich diversity and striking beauty, this destination delights everyone, from adults to children and seniors. This treasure trove of Mother Nature is famous for the mighty Piton Mountains, lush rainforests, and picturesque beaches.
The local history is endlessly fascinating, combining St. Lucia's British and French heritage with Indian culture. St. Lucia has much to offer if you want to learn more about the Caribbean pirates and their legacy. Families and their little ones can swim in the ocean, discover hidden beaches, and embark on snorkeling adventures.
The towering mountains and rainforests are brimming with scenic hikes. Adventurers flock to the Pigeon Island National Park to hike the towering Piton peaks and witness the spellbinding panoramas of the island. Nature reserves and national parks are abundant, and St. Lucia is always brimming with glorious architectural landmarks.
Food is undoubtedly the most exciting element of a Caribbean vacation, and St. Lucia will truly surprise your taste buds. The local cuisine is an assorted blend of American, Caribbean, European and Indian flavors, strongly emphasizing farm-to-table dining. We strongly urge you to try the island's national dish: salt fish served with green figs and unripe bananas.
The Bahamas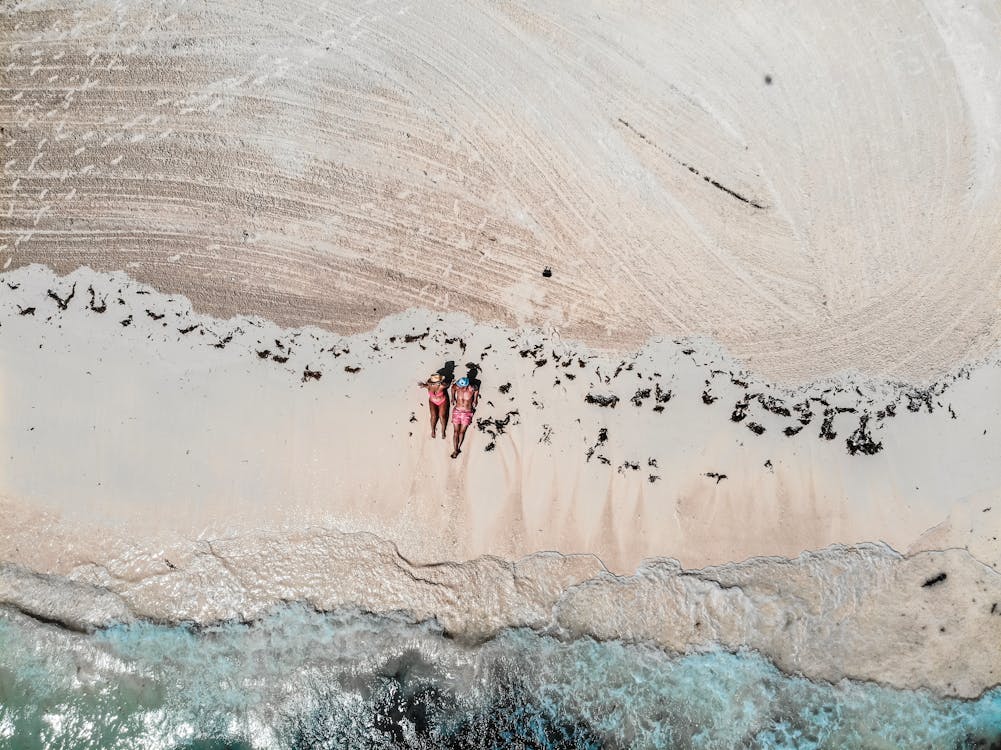 Couples planning romantic getaways in October should strongly consider the Bahamas, given the destination's affordability and versatility. The Bahamas is a bewitching archipelago comprising 700 islands, coral reefs, and islets. The archipelago is brimming with incredible cultural and natural diversity and a heart-warming community of friendly folks.
The Bahamians are warm and hospitable, making it the safest Caribbean island to visit with family and little ones. Suppose you're looking for the best island to vacation in the Bahamas; look ok no further than Harbour Island. This whimsical getaway is straight out of a fairytale with its pastel-toned cottages, blush-pink sand, and beaches canopied with palm trees. Harbour Island beckons travelers with its pink sandy beaches, award-winning golf courses, water sports, and scrumptious cuisine.
Vacationers seeking a luxurious destination in the Bahamas might find the Exumas more suited to their taste. Popular for the Tropic of Cancer Beach, powdery white sand, and cobalt blue waves, the Exumas are blindingly beautiful. If you're lucky, you might find yourself lunching next to Johnny Depp or running into Tyler Perry at the beach. Numerous American and international celebrities maintain private residences in the Exumas.
Eleuthera is the ideal destination for luxury travelers eager to experience the best resorts in October for a lavish Caribbean vacation. Eleuthera is home to world-class resort chains, combining high-end glamour with rugged cliffs and unspoiled wilderness.
St. Vincent and the Grenadines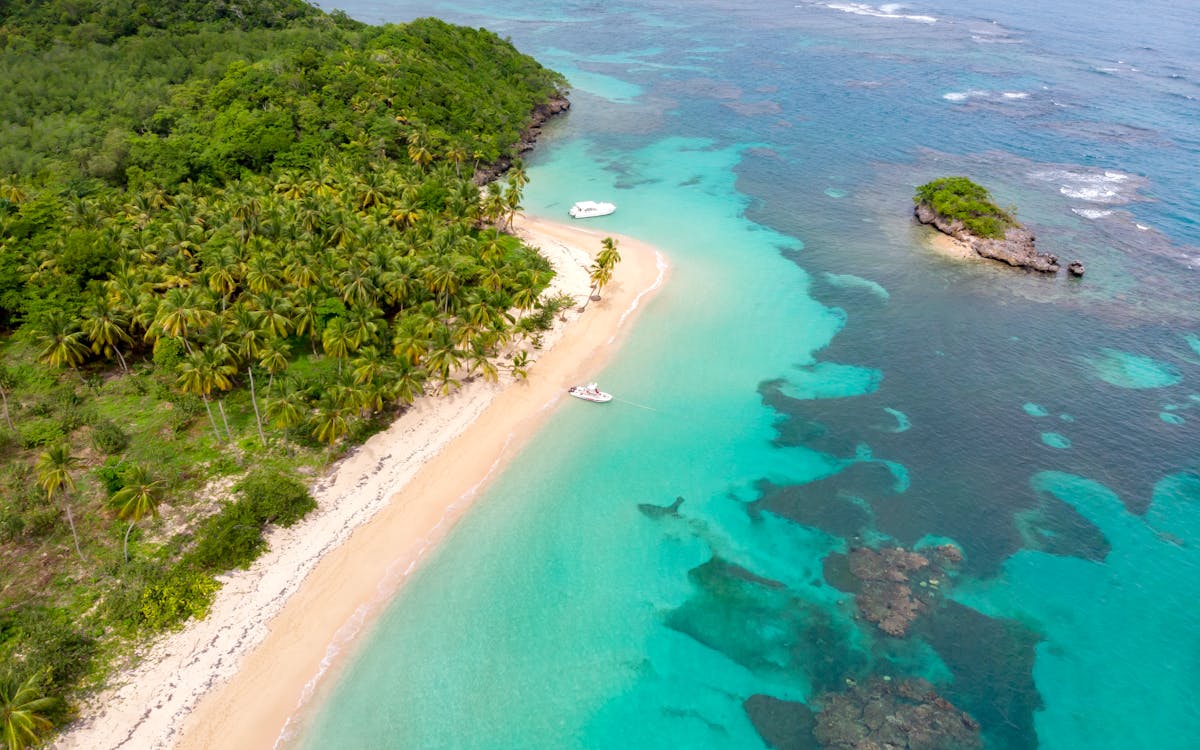 One of the world's best islands to visit in October, St. Vincent and the Grenadines is ideal for a budget-friendly getaway. This lesser-known Caribbean gem is incredibly affordable, allowing travelers to splurge on luxury without breaking the bank.
The magnificent beaches, welcoming community, and authentic Caribbean culture make this island an unforgettable experience. Nestled on the eastern end of the Caribbean Sea, the views here are spectacular, with vast stretches of nature parks and reserves. The pristine beaches, verdant rainforests, and picturesque nature trails make it one of the best fall trips for couples.
If you and your partner adore outdoor recreation like hiking and diving, you wouldn't want to leave this heaven. Adventurers will find themselves spoilt for choice, given the abundance of hiking trails, diving sites, and surfing spots. History buffs can gratify themselves with iconic landmarks like Fort Charlotte in Saint Vincent and Fort Duvernette.
The local islands and beaches are magical, and some must-visit spots include Tobago Cays, Bequia, Palm Island, and Mustique. This hidden Caribbean treasure trove promises one of the best island vacations in October – combining live music with delicious food and breathtaking beauty. The local carnivals and festivals work wonders at elevating fall vacations for couples with culturally immersive and wholesome celebrations.
Antigua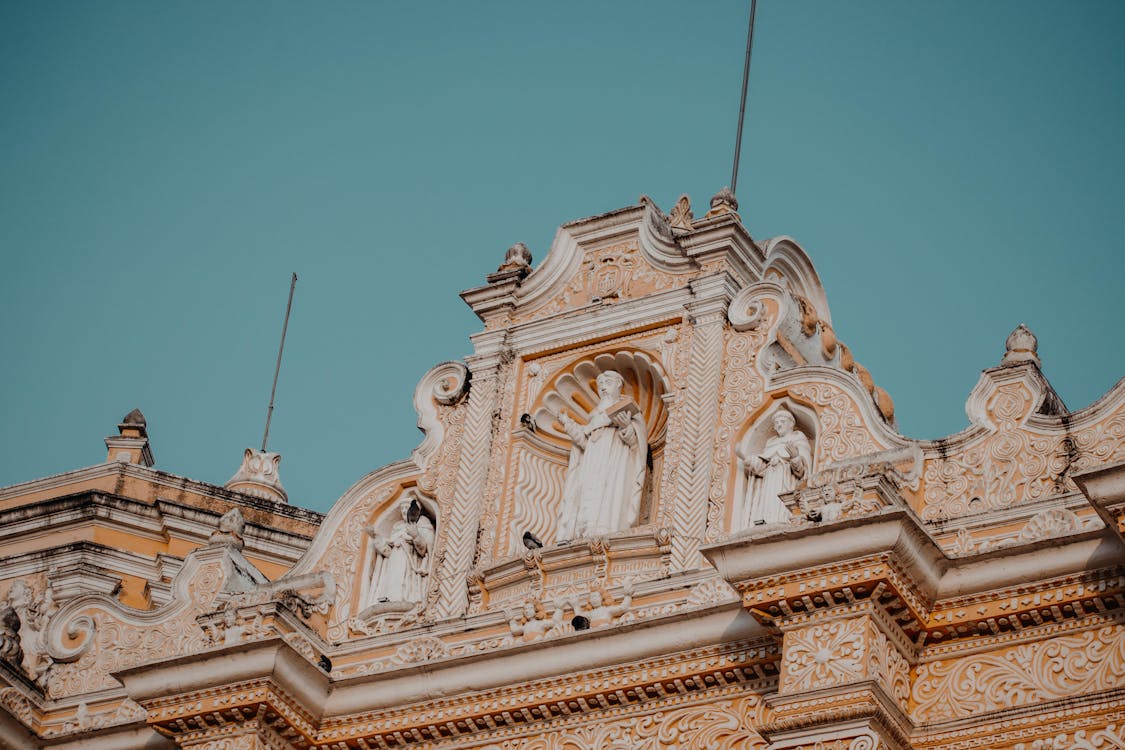 A haven for nature lovers and outdoor enthusiasts, Antigua ranks among the best islands to visit in October in the world. Famous for its powdery-white sandy beaches, 18th-century architecture, exotic culinary arts, and incredible wildlife, Antigua promises a well-rounded Caribbean adventure.
Vacationers can spend their time sipping rum on the beach, partying from sunset till dawn, and having fun-filled BBQs with live music. Antigua offers the coolest temperatures in the Caribbean, making it perfect for hiking all day. Nature enthusiasts can discover rare botanical wonders and witness the Caribbean's biggest nesting colony of frigate birds.
The island is brimming with historical landmarks, UNESCO heritage sites, interactive museums, and scenic harbors. Shopaholics can shop till they drop at the duty-free shopping outlets featuring luxury designer retail and artisanal crafts. The island offers a plethora of guided excursions and boat tours to explore the local rainforests, islands, and nature trails.
The vibrant streets of Antigua are amazingly walkable, and one can spend an entire day strolling through the markets. Walking through the island is endlessly fascinating, with street musicians serenading tourists as they hoard handicrafts and textiles.
Galleon Beach is the center of all excitement and water recreation, boasting an enchanting scenery of cobalt blue waves and powdery white sand. Adventurers looking to challenge their mettle can embark on strenuous hikes, like the Summit of Mount Obama or Shirley Heights.
FAQs
Which Caribbean Island Is Best to Go to in October?
Some of the best Caribbean islands to visit in October include Aruba, Antigua, Turks and Caicos, Barbados, and the Bahamas. There's a wide variety of islands with attractive October vacation packages. Travelers must dig deep into the local attractions and culture to find destinations that best satisfy their nomadic yearnings.
Is October a Good Month to Go to the Caribbean?
Fall is a great time to explore the Caribbean, especially if you want to escape the overwhelming hoards of tourists. The beaches and attractions are less crowded during October, and low-season rates ensure affordability. You can plan an unforgettable Caribbean beach vacation in October without overextending your budget or cramping your comfort.
Where Is the Safest Place to Travel with Kids in the Caribbean?
The Bahamas archipelago offers a wealth of islands and destinations that are child-friendly and safe. These islands feature all-inclusive resorts and world-class amenities to ensure safety and recreation.
What Is the Caribbean's Most Romantic Destination?
Every island in the Caribbean is uniquely endowed and incredibly gifted by Mother Nature's glories. Couples can look into popular October anniversary trip ideas, like cruises that cover multiple destinations across the Caribbean. If you want to cover one destination, Aruba and Antigua are endlessly romantic.