Are you dreaming of watching exciting Spanish bullfights, devouring steamy platters of paella and tapas, and exploring centuries-old cathedrals and palaces? Spain is a spectacular destination for travelers seeking art, architecture, culture, gastronomy, and breathtaking natural beauty.
Spain is known for its iconic Islamic architecture, sun-soaked Mediterranean coastline, and colorful cuisine. It is home to over 49 Word Heritage sites. Each region introduces a new culture, delighting history buffs with an astounding heritage dating back to ancient Rome, Catholic kingdoms, and Muslim caliphates.
Navigating a country as diverse and rich as Spain isn't easy, especially on your first trip to this Iberian destination. We've compiled a roundup of the best places to visit in Spain for first-timers to help you plan a well-rounded itinerary.
This article offers a snapshot of the best cities and famous sights in Spain for an exciting and unforgettable Spanish adventure.
Madrid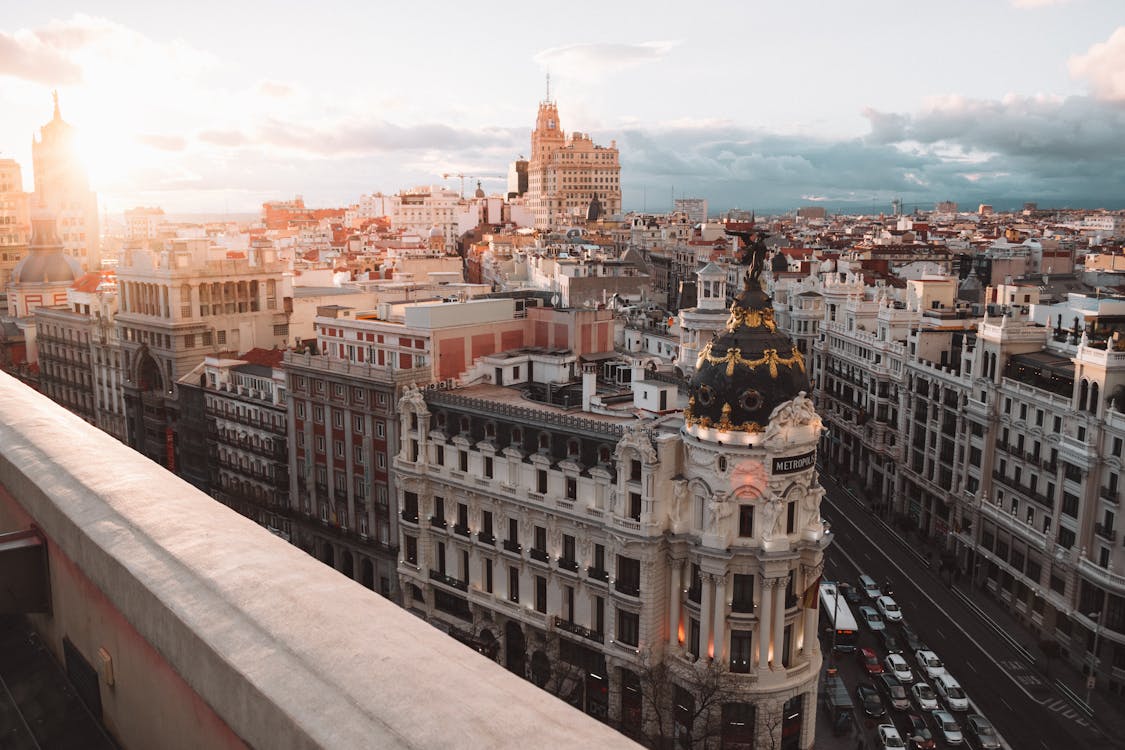 A lively and upbeat city with innumerable architectural landmarks and vibrant barrios, Madrid is brimming with art and culture. Art enthusiasts have much to explore and rejoice in, from art museums and ancient temples to historical taverns and rich street food. Madrid's treasure trove of world-renowned museums makes it one of the best places to visit in Spain for first-timers.
Travelers anxious about where to go in Spain will find Madrid an excellent place to start and learn about the local culture. Madrid's diversity makes it a unique destination, tempting travelers to start the day with historical tours and end it with a rip-roaring party. You can begin your sightseeing adventures from Puerta del Sol, a spirited square nestled in the city's heart.
Plaza Mayor is just around the corner, featuring some of Spain's most iconic landmarks and heritage sites. We advise spending an entire day exploring the famed Golden Triangle of Art, home to three iconic museums. You must visit the Reina Sofia, Museo del Prado, and Thyssen-Bornemisza to feast your eyes on the world's most prized art pieces.
A stroll through the legendary Paseo del Prado, a UNESCO World Heritage site, is highly recommended. Madrid is an amazingly walkable city with an infectiously energetic street culture. You can grab freshly fried churros and wine-slathered tapas from every corner and alley. History buffs would love the old-world charm of the historic La Latina district – home to Madrid's oldest taverns and bars.
Suppose you want to connect with the local community and devour traditional Spanish delicacies. In that case, La Latina is the perfect spot to dine, dance with the locals, and discover Spain's exotic cheeses. You simply cannot leave Madrid without visiting the Royal Palace, featuring over 3,000 rooms and beautifully manicured gardens.
The Templo De Debod, an ancient Egyptian temple, is one of the most interesting places to visit in Spain. After exploring the temple's relics, stroll along the Gran Via, an arterial boulevard running through the city.
Barcelona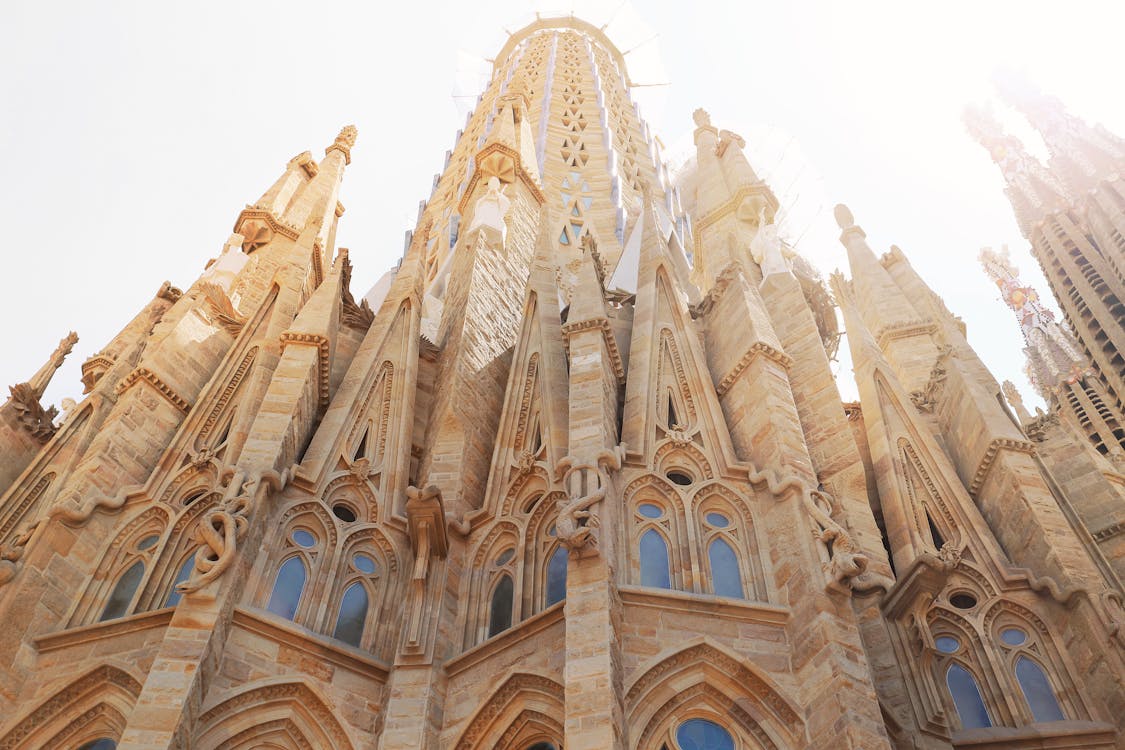 Barcelona is undoubtedly the best city to visit in Spain for architecture enthusiasts and beach lovers. Cradled by the Pyrenees Mountains, Barcelona beckons travelers to splash around sun-drenched Mediterranean beaches and devour authentic Catalonian food. You can spend your days exploring the bewitching architecture and historical alleys, dancing the nights away in glitzy clubs.
The Catalonian capital is magnificent, home to exotic heritage dating back to 2000 years and more. The Sagrada Familia is the best place to start your Barcelona adventure – the magnum opus of renowned architect Antoni Gaudi. Barcelona is brimming with architectural gems designed by Gaudi, and we advise visiting all for an exalting journey. Some of the must-visit architectural sites include Casa Batllo, Park Guell, and La Pedrera.
The Barri Gotic, or Gothic Quarters, is the beating heart of old Barcelona, a treasure trove filled with two-millennia-old heritage and relics. One can spend an entire day walking the enchanting streets of Barri Gotic, visiting ancient sites and devouring streetside delicacies. Here you can feast on authentic tapas filled with mushrooms, red peppers, spicy Catalonian vegetables, and chocolate-coated churros.
Barri Gotic is also home to the Placa Reial and La Catedral of the Holy Cross and Saint Eulalia. At the tip of the Gothic Quarters, you will find the vibrant Mercat de la Boqueria – one of Europe's oldest markets. Mercat de la Boqueria is one of the most interesting places to visit in Spain, a haven for foodies and shopaholics.
Seville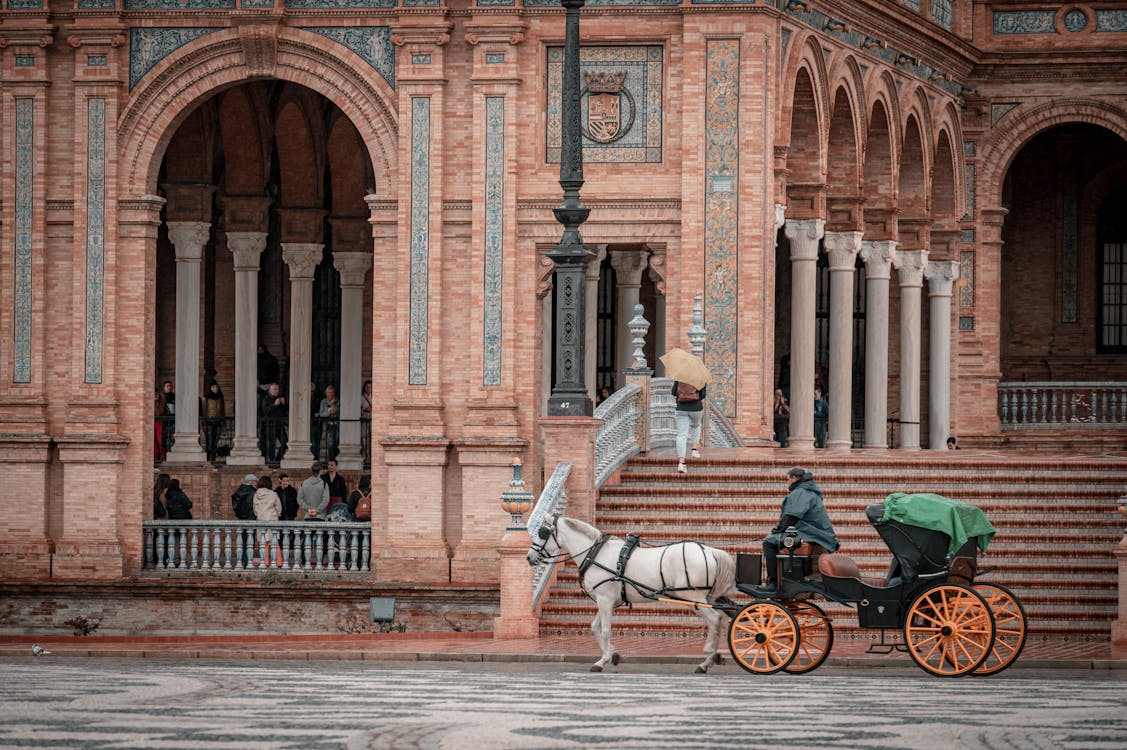 One of the best places to visit in Spain for first-timers, Seville attracts cultural enthusiasts with the majestic grace of Andalusian heritage. Famous for its year-round sunny climate, spectacular Andalusian palaces, and heavenly gardens, Seville is a truly magical destination. You can explore the city on horse-drawn carriages, stroll through massive Gothic structures and enjoy flamenco performances.
Seville entices travelers with a multilayered cornucopia of experiences, from enjoying Islamic stylistic beauty to socializing at upmarket clubs. The Andalusian capital offers an idiosyncratic juxtaposition of cultures, featuring Baroque, Catholic, Islamic, and Rennaissance heritage with sheer magnificence.
Start your sightseeing adventures with the Seville Cathedral, the world's largest Gothic basilica. Nearby, you will find the Royal Alcazar – a wondrous Mudejar heritage site blending Gothic architecture with Baroque, Islamic, and Rennaissance art.
You cannot have an authentic Seville experience without dancing to the vivacious tunes of live music and catching a flamenco show. Seville is the birthplace of flamenco, and the performances will leave you bewitched by their dramatic costumes and movements.
Balearic Islands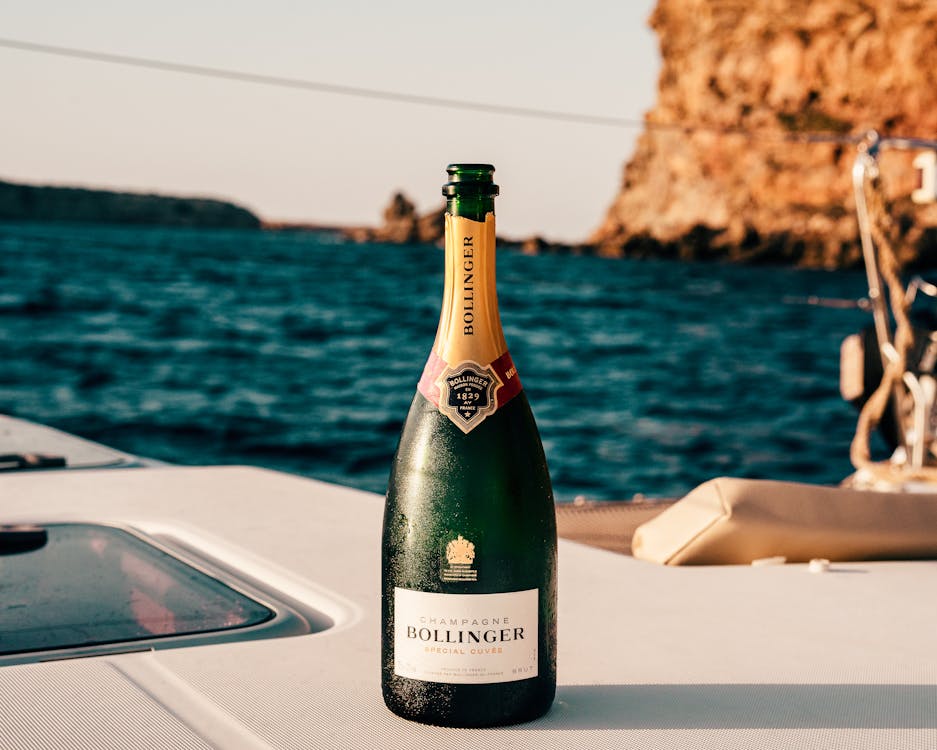 Home to the best summer vacation spots in Spain, the Balearic Islands enchant sea lovers with sapphire-hued waves and rugged cliffs. Vacationers eager to relax and unwind by the Mediterranean waters will find this archipelago brimming with abundant serenity spots. At the same time, the Balearic Islands offer multiple party hubs with rip-roaring nightlife, including the world-famous party island Ibiza!
The Balearic archipelago features four islands: Formentera, Ibiza, Mallorca, and Menorca. These islands are well-endowed with pristine white sandy beaches, limestone cliffs, hidden coves, and secluded stretches of the Mediterranean. Adventurers can embark on rewarding hikes through the mountains, hiking through meadows ending up on isolated beaches and coves.
Mallorca is one of the best places to visit in Spain for first-timers with families and children, offering a multitude of family-friendly experiences. Families can enjoy water sports, explore ancient heritage, devour Mediterranean cuisine, and witness the island's beauty from a hot air balloon ride.
Ibiza attracts party lovers with its electrifying and never-ending nightlife. This glitzy island offers an unreal and exhilarating nightlife experience with beachside raves, hip clubs, and events featuring sought-after musicians. But contrary to popular opinion, Ibiza is more than just a party town. In fact, the island is listed among UNESCO World Heritage sites, featuring numerous historical landmarks.
Once you're satiated with Ibiza's party culture (highly unlikely!), you must head over to explore the historic neighborhoods. These well-fortified ancient towns, bordered by the Mediterranean's sparkly sapphire waters, are brimming with secret inlets, landmarks, and relics. We advise taking out a day to stroll through the historical alleys, stopping by the beachfront cafes and food joints for refreshments.
History buffs eager to unravel the mysteries of ancient Phoenicia must visit the Puig des Molins necropolis and Sa Caleta. These ancient sights are exalting and will transport you back in time to the historic colonies of ancient Phoenicians who once inhabited them.
Granada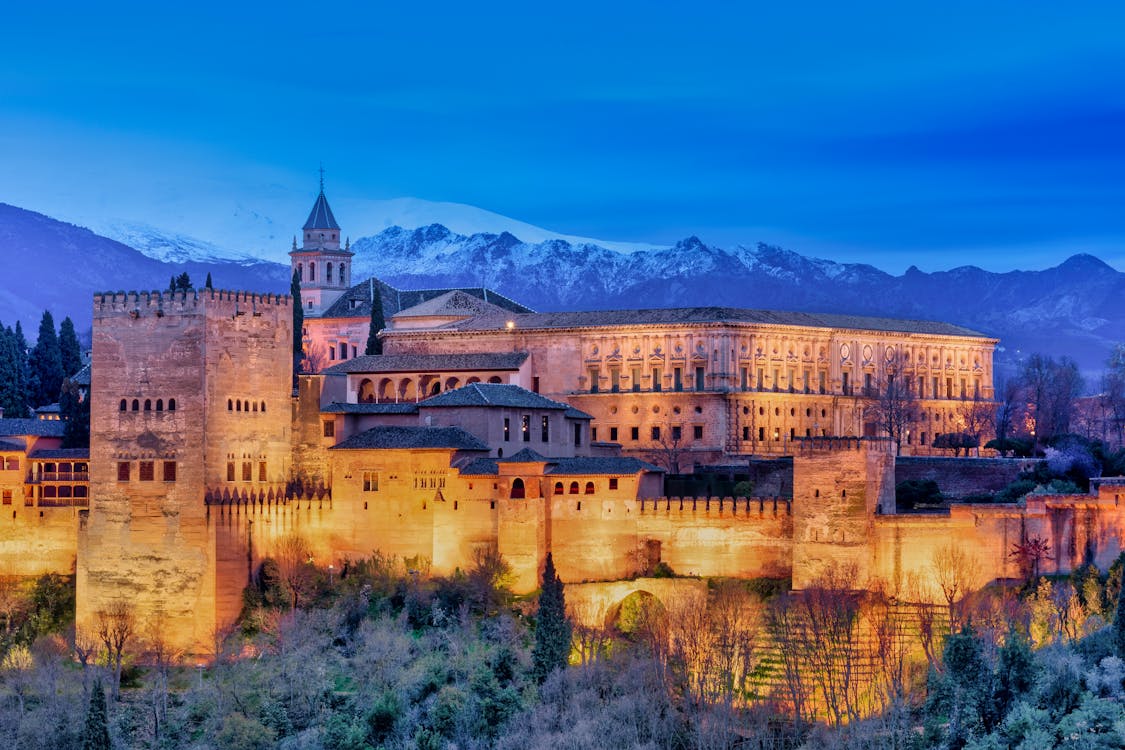 One of the best cities to travel in Spain, Granada is the ultimate destination for adventurers, architecture lovers, and shopaholics. Renowned for the spell-bounding Alhambra Palace, Granada offers some of Spain's finest architectural masterpieces, gardens, marketplaces, and nightlife districts.
Nestled at the foothills of the snow-laced Sierra Nevada Mountains, this Andalusian city was once the ancient cradle of the Nasrid Dynasty. The Alhambra, meaning The Red One, is an exquisite specimen of Christian, Islamic, and Moorish stylistic elements. This stunning architectural wonder is an exotic dreamscape with flamboyant mosaics, intricately carved archways, marble-clad walls, and innumerable reflective pools.
Alhambra is an ancient palace that served as a fortress, a truly exceptional heritage site that reveals the most enticing historical trivia. Once you've explored the palace, head over to the Albaicin – Granada's Arabian Quarters. Here, you will find endless irresistible rarities and finds to splurge all your travel funds and shop to your heart's content. The outlandish alleys of Albaicin will tempt you with beautifully woven tapestries, colorful wall hangings, exotic spices, and herbal teas.
There's much to do in Granada for the outdoorsy and wild at heart. Adventurers can hike and trek through the Sierra Nevada Mountains, which are famous for mountain climbing, high-altitude trekking, paragliding, and horse riding.
The Vereda de la Estrella trail is one of Granada's most famous hiking routes, starting from the idyllic alpine town of Güejar Sierra. This 10-km trail has a gentle incline, taking you over the Genil River, deep into the heart of the snow-coated Sierra Nevada. The trail covers a tranquil forest lined with ash, chestnut, maple, and oak trees clinging to the riverbed and valley.
You will cover some of the most famous sights in Spain, including the Alcazaba and the Mulhacen peaks, the Guarnon River, and El Abuelo – Spain's famous centenary chestnut tree.
FAQs
What Are the Best Cities to Visit in Spain?
If you're visiting Spain for the first time, we strongly recommend adding Barcelona, Madrid, Seville, and Mallorca to your itinerary.
When Is the Best Time to Visit Spain?
Spain is soaked with year-round sunshine, owing to its vast Mediterranean coastline and sunny climate. But if you want to pick the best time to visit Spain to enjoy affordable rates, we advise visiting during Spring or Fall.
What Are the Top 3 Cities to Visit in Spain?
Barcelona, Madrid, and Seville are the best cities in Spain for vacation, for these cities deliver the essence of a true Spanish adventure.
Which Is Better to Visit, Madrid or Barcelona?
It really depends on what you seek as a traveler. Madrid is an art and architecture treasure trove, beckoning art lovers with abundant beauty. Barcelona combines art, architecture, and culture with beautiful beaches, lively street culture, and exciting nightlife.