Dubbed the Pearl of the Pacific Ocean and Heaven on Earth, Bora Bora is a dreamlike island that inspires awe. A world-renowned getaway in the Society Islands of French Polynesia, Bora Bora is enchanting with its unique land formations and geological wonders. Home to stunning blue lagoons, mesmerizing coral reefs, and volcanic mountains, this tropical getaway radiates tranquility.
Ranked among the world's most beautiful islands, Bora Bora welcomes nature lovers to revive their souls with hypnotic beauty. One can swim the day away in turquoise lagoons, hike through tropical forests, and lounge around with toes dipped in powdery white sand. People commonly wonder is Bora Bora a country and how one applies for visa and travel documents.
It's not a country but one of the Society Islands, located 230 km from Tahiti's capital, Papeete. This article will walk you through interesting Bora Bora facts, equipping you with abundant information for planning a wholesome adventure.
What Country Is Bora Bora In?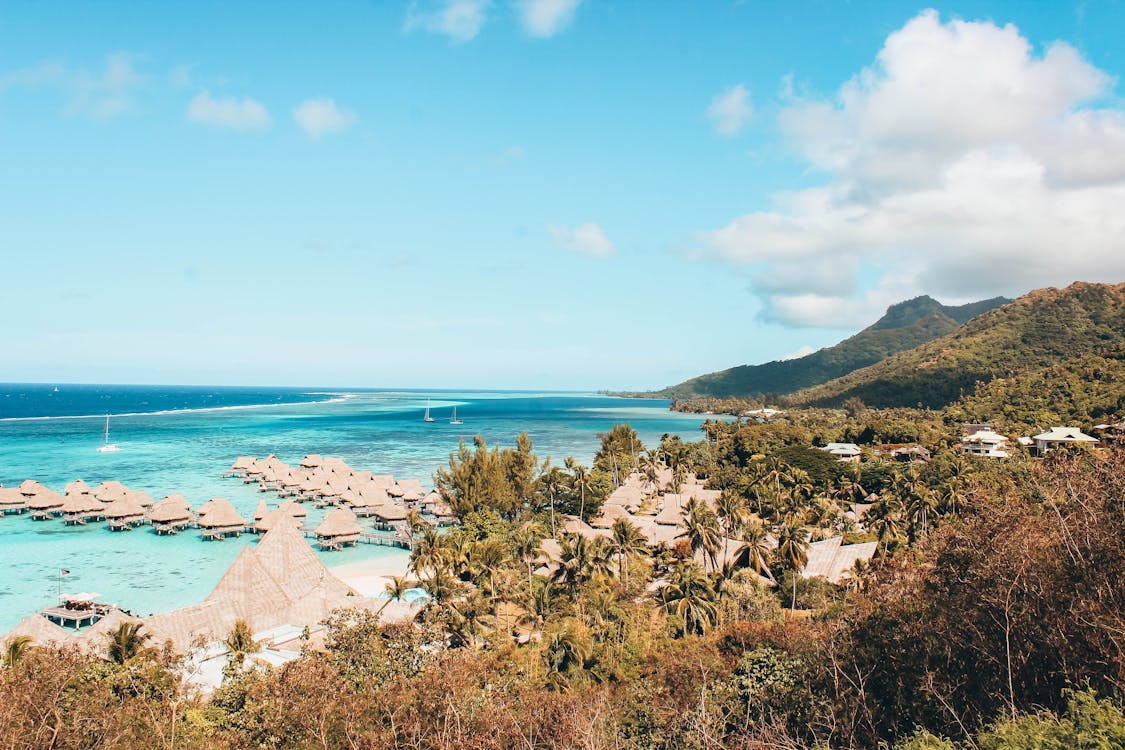 Nestled in the Îles Sous le Vent, popularly known as the Leeward Islands, within the archipelago of the Society Islands in French Polynesia. Tucked in the central belt of the South Pacific Ocean, Bora Bora lies near northwestern Tahiti. The Leeward Islands form the western section of Society Islands – an overseas territory of the French Republic.
Sprawling over 29.3 km2 of breathtaking natural beauty, Bora Bora is a volcanic island laden with mountains, lush greenery, and coral reefs. The entire island is surrounded by a turquoise lagoon and abundant coral reefs, while the center features an extinct volcano. Bora Bora is home to two peaks: Mount Pahia and Mount Otemanu.
Tourists often wonder do people live in Bora Bora? Indeed, this tropical paradise is home to a close-knit community of around 9,000 residents. These communities are scattered across the island, and around 5000 residents live in the town of Vaitape. Travelers seeking an interactive cultural experience can connect with locals in the breathtaking villages of Anau and Faanui.
Unraveling the History of Bora Bora Island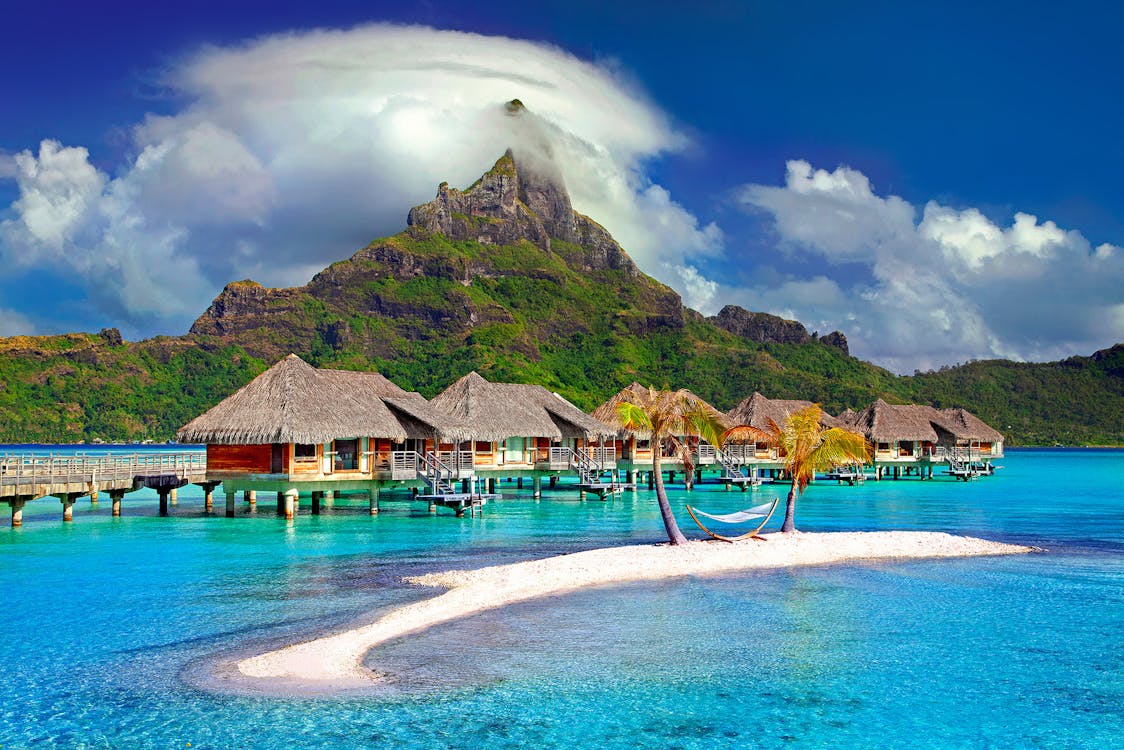 The island of Bora Bora was created by a volcanic eruption over 4 million years ago. This eruption left the island uninhabited for centuries until the Tongan communities relocated and settled here. The Tongans called the island Vava'u.
The small island rings, lagoons, and coral reefs one witness today was once the rim of a gigantic volcano. Since the 4th century, Bora Bora has been a vibrant community of Polynesian traders and Tongons. In 1722, the island was discovered by Dutch admiral Jacob Roggeveen. Interestingly, this tropical haven had immense commercial and recreational appeal long before the Westerners discovered and occupied it.
In 1769, the iconic explorer Captain James Cook stumbled upon the island while exploring the vastness of Polynesia. Cook continued his adventures of the east and, in 1820, brought missionaries to the island to promote the spread of Christianity. It appears that Cook succeeded in his endeavor because Christianity is the major religion in Bora Bora.
Given the significance of the Bora Bora geography and the island's geo-strategic appeal in the Pacific, the French occupied it. This geo-strategic significance caught the attention of the Americans during the Second World War. Bora Bora was a major military supply base aiding American troops against the Allied forces and Japan.
Bora Bora officially emerged on the global tourist radar during the 1940s when people began exploring the island's lesser-known spots. The Americans considerably improved the local infrastructure to equip it with military fortifications. They enhanced accessibility with an airstrip, naval defenses, and an oil depot. These developments marked the first step toward Bora Bora's emergence as a luxurious stretch of paradise laden with lavishly appointed resorts.
What is Bora Bora Known For?
The jagged remains of an extinct volcano, Bora Bora, feature powdery white sand, turquoise lagoons, and coral reefs with enchanting marine life. The extinct volcano in Bora Bora draws immense fascination with its geological characteristics and spellbinding expanse. The volcano is separated by two verdant peaks, Mount Pahia, and Mount Otemanu.
Wildlife enthusiasts and bird watchers are intrigued by the diversity of the Bora Bora animals and the island's distinct flora and fauna. The coral formations are home to abundant species of tropical fish, including jackfish, lemon sharks, and red snappers. Interestingly, the native animals of Bora Bora include typical farm breeds that one doesn't find in tropical destinations.
These animals include cats, cows, sheep, and dogs, brought to the island by Tahitian traders. The island is an excellent destination for bird-watching, offering the most breathtaking species in Polynesia. One can embark on hiking trails to spot the black-winged petrels, pacific swallow, and the white tern. Hiking around Bora Bora is immensely rewarding, and the trails are laden with tropical fruits like papayas, mangoes, and bananas.
The tropical meadows, valleys, and slopes are brimming with exotic Tahitian flowers that beguile onlookers with their magnificent fusion of colors. The Cactus Dahlia is a soothing sight for sore eyes with its rich coral-pink hues. The soft white petals of Tiare, the Bora Bora national flower, beg to be admired and caressed.
The native Bora Bora language is Tahitian, but French and English are commonly spoken across the island. Travelers who want to witness authentic Polynesian customs and centuries-old traditions will find the Bora Bora culture mesmerizing. This vibrant community celebrates local culture with a wide host of ceremonial events, festivals, and religious gatherings, like "Tauru'a Varua."
Interesting Facts about Bora Bora
Let's dive into some interesting facts about Bora Bora to heighten your fascination for this majestic destination.
Bora Bora Is Actually Pora Pora
The Tahitian language consists of 13 letters; no letter B is in the local alphabet. Since the sound B isn't a part of the Tahitian vernacular, one can only wonder how the island got its name. Originally, the island was called Pora Pora, meaning "first-born" in the local language.
Tahitians believe that after Raiatea, Bora Bora was the first island created by the volcanic explosion. As English missionaries began arriving in Polynesia during the 18th century, they started mispronouncing it as Bora Bora. The name stuck, and Pora Pora became world-famous as Bora Bora!
It Rains Coconuts!
As crazy as it sounds, the island is famous for its coconut rains, and hikers must be extremely cautious. You cannot hike through the valley without covering your head and steering clear of coconut trees.
Coconut rain is unusual throughout the region: thousands of coconuts fall at once. Bora Bora is brimming with abundant coconut trees, and these giant-sized tropical bounties fall randomly. There's no way to predict or avoid a coconut rain, so all you can do is be careful.
The locals strongly advise against lounging under coconut trees or even walking underneath their shaded canopy. These huge coconuts and their weight and speed can cause severe head injuries.
Tattoos Are a Revered Symbol of Beauty
The vibrant Bora Bora culture is uniquely delightful, celebrating centuries-old customs with immense pride. Tattoos are more than just a fashion statement in Bora Bora; they are considered sacred art forms.
According to Polynesian and Tahitian legends, tattoos originated from the sons of Ta'aroa – the Tahitian God of all creation. Centuries ago, the island's inhabitants used their tattoos to demonstrate their positions within society. Today, locals admire tattoos as a religious art form and a holy symbol of beauty.
Swimmable Coral Reefs
If you're still looking for reasons to visit Bora Bora, close your eyes and visualize yourself swimming through a coral reef.
The island is home to innumerable coral reefs found in every nook and cranny of Bora Bora. Swimmers eager to escape the touristy crowds and find secluded spots will be utterly delightful by the abundance and variety.
The local hotels and luxury resorts offer exclusive access to private coral reefs – a great choice for travelers seeking socialization and nightlife. The eastern section of Bora Bora features a natural aquarium called the Lagoonarium. Travelers can swim in the Lagoonarium or embark on rip-roaring snorkeling adventures.
The coral reefs, including the Lagoonarium, allow ocean lovers to experience the diversity of marine life like never before. Imagine swimming alongside manta rays and stingrays and exploring their local habitats.
FAQs
How Big Is Bora Bora?
Bora Bora and its picturesque islets sprawl over 15 square miles or 39 km2, stretching 8km toward the south and 5km toward the west.
Why Is Bora Bora a Good Place to Visit?
Widely considered the world's most romantic island, Bora Bora is a magical destination for honeymooners and nature lovers. There's an abundance of reasons to visit Bora Bora, from underwater adventures and outdoor recreation to spellbinding serenity. There's much to do and explore, and those who prefer luxury can find innumerable resorts to revel in modern comforts.
What Is the Population of Bora Bora?
The population of Bora Bora is estimated at around 9,000, with over 5,000 people residing in the town of Vaitape.
What Currency Is Used in Bora Bora?
The Pacific Franc (XPF) is used throughout French Polynesia, including Bora Bora.
Are They Any Bad Things about Bora Bora One Should Know Before Traveling There?
Bora Bora is one of the world's safest tropical destinations and less vulnerable than most islands in the Pacific. There aren't any downsides to this tropical getaway – except for the fact that it isn't ideal for budget travelers. Typically, a couple's week-long vacation in Bora Bora can cost a minimum of $5,000, soaring up to $22,000 and more.